Solving the World's Biggest
Energy Problems
Ambri's Liquid Metal™ battery technology solves the world's biggest energy problems fundamentally changing the way power grids operate by increasing the contribution from renewable resources and reducing the need to build traditional power plants. Ambri's sustainable, American-made batteries are built for daily cycling – even in extreme, harsh environments.
Unlike rival technologies, Liquid Metal batteries have minimal degradation and can last for over 20 years. They are not only extremely reliable but also safe – as they do not produce or emit any gases and have no possibility of thermal runaway.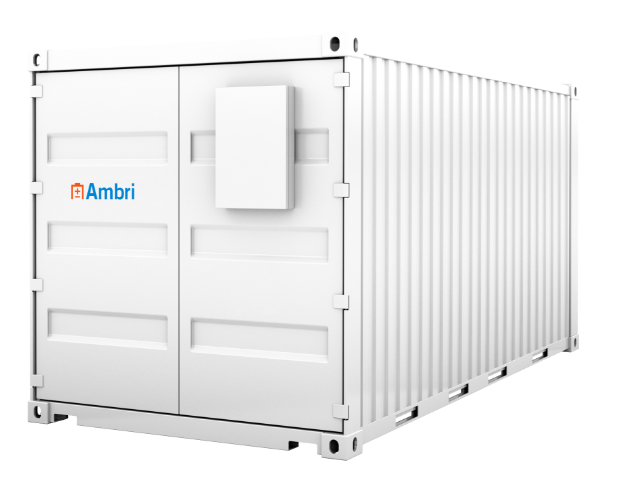 Why Choose Ambri?
Ambri is scaling an advanced long duration energy storage technology that will lower the cost of shifting renewable energy to times of high demand.
Ambri Liquid Metal batteries provide:
Lower CapEx and OpEx than lithium-ion batteries while not posing any fire risk
Deliver 4 to 24 hours of energy storage capacity to shift the daily production from a renewable energy supply
Use readily available materials that are easily separated at the system's end of life and completely recyclable
How Ambri Works
Ambri Liquid Metal battery technology fundamentally changes the way electric grids operate by increasing the contribution from renewable sources – enabling grid-scale solar and wind farms to replace coal, oil and natural gas peaker plants.
Energy Shifting
Maximize your renewable energy investment by storing excess energy when it's not needed and discharging it when demand is high.
Capacity Firming
Increase renewable energy penetration while reducing intermittency issues to enable grid stabilization.
Renewable Integration
Eliminate dependency on carbon-emitting generation, replace aging power plants and defer costly T&D upgrades.
Ancillary Services
Ambri battery systems are ideal for providing ancillary services as our batteries perform best when cycled daily.
Ambri in Action
As part of Microsoft's commitment to be carbon negative, Ambri was selected by Microsoft to deploy its Liquid MetalTM energy storage system to reduce Microsoft's dependency on diesel, allow for constant renewable power from any source and provide access to ancillary services markets.
"At Microsoft, we are committed to pursuing progress toward 100% renewable power and replacing diesel backup generators by 2030, while providing reliable service to our customers. The technology solutions developed by Ambri and Schneider Electric provide a pathway to accomplishing these goals," said Upshur Quinby, Energy Innovation Manager on Microsoft's Datacenter Advanced Development team.
"Enhancing energy storage capabilities — including implementing long duration battery solutions for datacenters — is critically important to our mission. With this partnership, we are strengthening our commitment to sustainability and taking another step in our work to support the grid with ancillary services and shifting," adds Ehsan Nasr, Senior Design Researcher at Microsoft.
What's New?
Check out the latest news, insights, features, tips, thought leadership, and more!